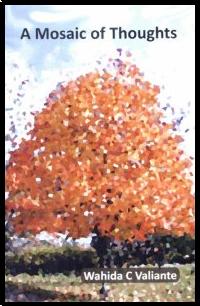 A Mosaic of Thoughts
Book launch with author Wahida Valiante
Date: Saturday January 28, 2012
Time: 3:00 – 5:00 p.m.
Location: Lower Social Room, Noor Cultural Centre
Admission: Free

Wahida Valiante (BA, Psychology; MSW) is the recently retired National President and a founding member of the Canadian Islamic Congress (CIC), and the National Chair of the CIC-sponsored Islamic History Month Canada.  She is the author of many publications and a regular speaker on subjects of religion, the development of human personality, human relationships, and more.  For the second year in a row, she has  been identified as one of the 500 Most Influential Muslims in the World by The Royal Islamic Strategic Studies Centre.
Topics covered in "A Mosaic of Thoughts" include:
Human rights and social justice
Politics at home and abroad
History and religion
Muslim families and social dynamics
"Wahida Valiante demonstrates what one individual can do to advance worthy causes.  Her wise and persistent leadership on behalf of dignity and decency for people of all faiths has lifted the spirits and hopes of untold thousands of Canadians and people beyond.  These endeavours are especially effective on behalf of Muslims who struggle under unwarranted but often fierce passions against Islam.  We need more Wahidas"
– PAUL FINDLEY
Former U.S. Congressman (1961-1983); author, "They Dare to Speak Out: People and Institutions Confront Israel's Lobby"
"Like the vibrant Canadian social mosaic, Wahida's book offers a captivating tapestry of exceedingly relevant and articulately examined and presented topics.  It dares to address issues from an alternative Islamic perspective that has been largely lacking both within and without Western Muslim and non-Muslim discourse.  For this reason, the book represents a challenge as well as an opportunity.  A challenge to the conventional Western wisdom regarding contemporary issues facing Muslims, and an invitation to Muslims and non-Muslims alike to re-evaluate their either archaic or distorted views of Islam in general and the message of the Qur'an in particular"
– IBRAHIM HAYANI
Professor, Ryerson University

"A Mosaic of Thoughts by Wahida C Valiante is not a mere compilation of random musings or philosophies of life.  It is a unique intellectual endeavour of an outstanding Canadian Muslim thinker and leader of our time who means every word that she pens.  Throughout the book, her zeal for empowering the community, her passion for social justice and her vision for a more inclusive and harmonious world, is vivid and refreshing"
– TAHA GHAYYUR
Founder, DawaNet
Refreshments will be served.  Copies of the book will be available for sale.