Book Launch: Tales From Birehra: A Journey Through a World Within Us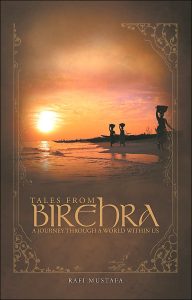 Please join us for a book launch of Tales from Birehra: A Journey Through a World Within Us by Dr. Rafi Mustafa.
About the book:
Tales from Birehara: A Journey Through a World Within Us "is a narrative of a Hindu-Muslim relationship shared across the Indian sub-continent prior to the ending of the British Raj. Misty mornings, corn fields, and dirt paths turned to muddy seas by monsoon rains….Birehra is a fictional microcosm of the country and times – a tiny village, shared peacefully by people of different faiths, and shaped by four hundred years of life lived close to the land and guided by the rhythms of the seasons.
With vivid scenery, and characters who seem to breathe with colourful life, Rafi Mustafa draws his readers into the culture he describes, making them treasure its simple joys and dread its looming devastation."
About the author:
Having earned his PhD from the University of British Columbia in 1969, Rafi Mustafa was engaged in research and teaching at a number of universities, including the University of Leicester in England, the Universities of Toronto and Windsor in Canada, the University of Sindh in Pakistan, and the University of Khartoum in Sudan. At present, he is the CEO of an IT company that he established in 1991. He is also on the Advisory Committee of the Muslim Studies Program at Emmanuel College, at the University of Toronto. Dr. Mustafa has also been a part of the International Development and Relief Foundation (IDRF) for the past 30 years as a board member, the president, and, currently, as a member of the advisory committee.
Date: Sunday November 12, 2017
Time: 2:00 pm
Location: Auditorium, Noor Cultural Centre
Admission: $5