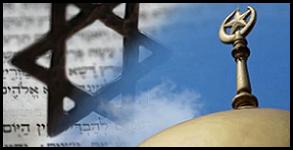 Canadian filmmakers Zarqa Nawaz (journalist and creator of CBC's Little Mosque on the Prairie) and Francine Zuckerman (writer, producer and director) share insights and excerpts from their ground-breaking documentaries. Me & The Mosque and Half the Kingdom focus on the efforts of Muslim and Jewish women to reconcile deeply held faith commitments with their desires for equal access to communal and ritual space. Join these two visionary women in conversation as they reflect on the impact of these films and why they remain relevant in the current political climate.
Date: Sunday, April 30
Time: 7.30pm (Doors open 7.00pm)
Location: Auditorium, Noor Cultural Centre
Cost: $10 (in advance); $12 (at door) – Purchase tickets here.
Presented by FENTSTER: A Window Onto Jewish Life Through Art and Shema & Iqra': The Jewish-Muslim Text Project
For more information, please visit www.fentster.org.
Community Partners: Noor Cultural Centre, University of Toronto Multi-Faith Centre, Makom: Creative Downtown Judaism, Emmanuel College of Victoria University in the University of Toronto and MuslimFest