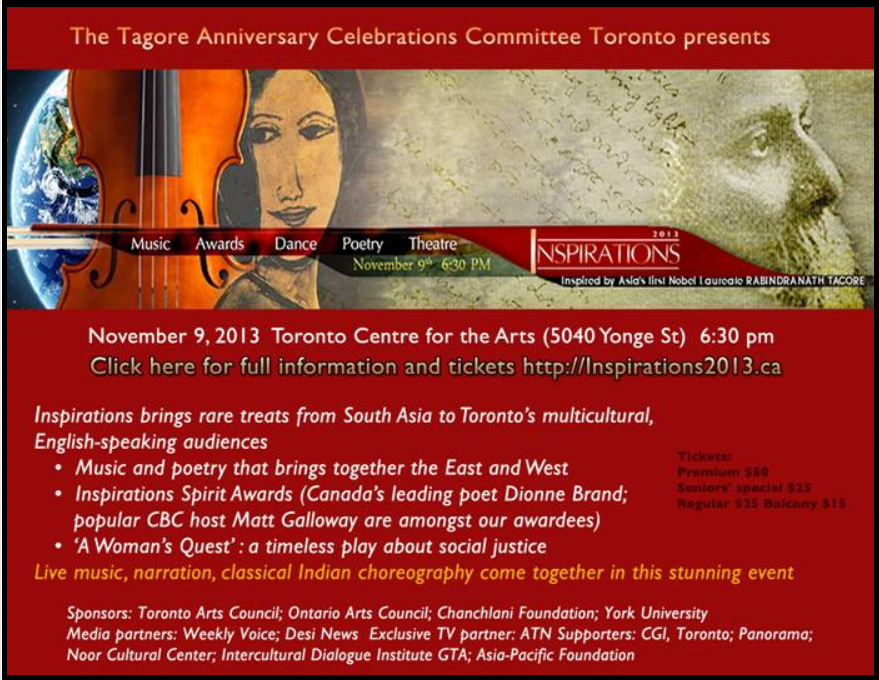 Inspirations 2013: A Celebration of Diversity, Creativity, and Justice
Rabindranath Tagore (1861-1941) was the first Bengali and non-European to win the Nobel Prize in Literature; 2013 marks the centenary of his Nobel.
While the West largely knows Tagore as a 'mystic and a poet', Tagore excelled in every sphere of the arts – he was a lyricist and composer, and produced plays, short stories, novels, essays, and thousands of letters.

Tagore was a leading social justice advocate – he was a prominent voice in India's anti-colonial movement; and was outspoken about his positions against war and militarism, and racial inequality at home and abroad.  He returned his knighthood in protest of a British massacre of unarmed citizens in Punjab in April 1919.
This special program is in remembrance of Tagore's Nobel Prize, and a celebration of his life, work, and philosophy.
More information about the life and works of Rabindranath Tagore.


Program
(all segments are in English or with English translations)
Opening Feature:
A medley of Tagore's music through symphony orchestra and choir, featuring both Eastern and Western sounds
Presentation of the 'Inspiration Awards', each representing a different facet of Tagore's philosophy:
Poetry and Social Justice – Dionne Brand (Poet)
Diversity and Social Inclusion – Matt Galloway (host of CBC Radio's Metro Morning)
Empowerment through the Arts – Inner City Angels and its Executive Director Jane Howard Baker
Building Inclusive Economies – Ontario Co-operative Association and its Executive Director Mark Ventry
Concluding Presentation:
An adapation of Tagore's 'Chandalika' featuring Indian classical dance, live music, drama and narration
Full Program


Date: Saturday November 9, 2013
Time: 6:30 pm
Location: George Weston Recital Hall, Toronto Centre for the Arts (5040 Yonge Street)
Admission:
Regular – $15-50 (depending on seating)
Seniors – $25 for Premium seating
Purchase tickets here


This event is organized by the Tagore Anniversary Celebrations Committee of Toronto (TACCT); Noor is one of several supporting organizations.