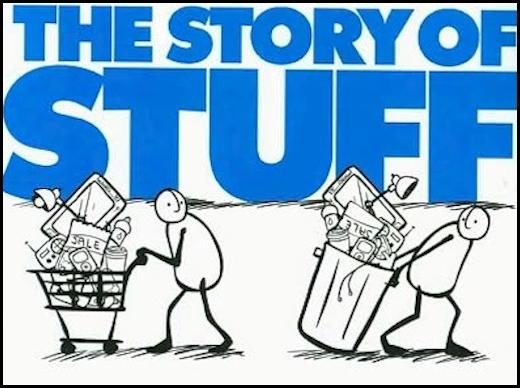 Reading and Discussion:
"The Story of Stuff" by Annie Leonard
Although the majority of our activities involve some form of material consumption – from eating to sleeping, working to playing – we know shockingly little about our 'stuff'.  We may remember what we paid for it, but do we know how far it travelled to reach us?  if labourers were underpaid or put in dangerous situations to produce it?  if animals were mistreated? if it contributes to our long-term health and happiness?
"The Story of Stuff" by Annie Leonard examines who and what is affected by our 'stuff' throughout its life cycle: from the extraction of its raw materials to the disposal of it once it has served its purpose in our hands.
This four-part series will cover the contents of the entire book, with each session consisting of a recap, analysis and discussion of the material.  Participants are encouraged, although not obliged, to read the chapters in advance of the discussion.
Dates: Sundays October 21, 28; November 4, 11
Time: 11:00 am – 1:00 pm
Location: Upstairs Classroom, Noor Cultural Centre
Admission (per session): $5
Program
Session 1: October 21
Reading: Introduction & Chapter 1 (Extraction)
Session 2: October 28
Reading: Chapter 2 (Production) & Chapter 3 (Distribution)
Session 3: November 4
Reading: Chapter 4 (Consumption) & Chapter 5 (Disposal)
Session 4: November 11
Reading: Epilogue & Appendices
Book Information:
"The Story of Stuff"
Free Press, a Division of Simon & Schuster, Inc. 2010
ISBN:978-4391-2566-3
ISBN:978-4391-4878-5(e-book)
This program will be facilitated by Khadijah Kanji.
Khadijah is a Program Coordinator at Noor Cultural Centre. She has her Bachelor of Commerce from the University of Ottawa and is completing a post-graduate certificate in Food Justice at Ryerson University.